Aslin Beer Garden and Coffee Shop is the new place to be on 14th Street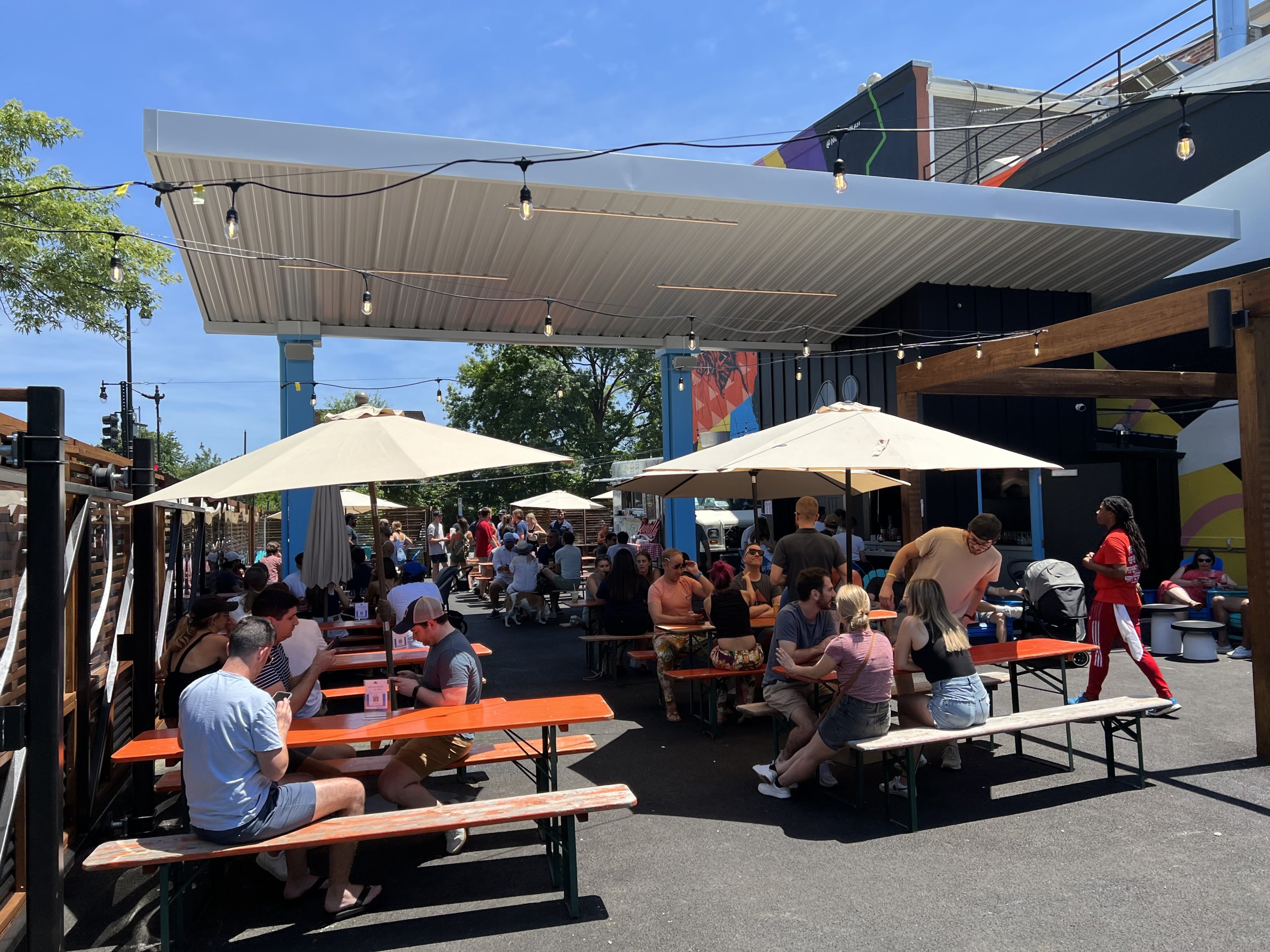 Aslin gas station opens on 14th Street. Photograph by Zachary Warmbrodt.
A dog-friendly beer garden and early morning coffee shop is the lively new place to drink in the 14th Street hallway. After years of controversy over the corner lot redevelopment, Aslin Filling Station – an offshoot of the Virginia-based brewery – finally debuted with 24 taps, a retail beer store, food truck dishes and quirky coffee drinks.
The main real estate was originally intended to become another Dacha Beer Garden. But a group of nearby neighbors fearful of noise and drunks urinating on their properties fought off the company, scattering their yards with "NO Dacha" signs. A fierce battle over liquor licenses raged for years, with Dacha making numerous concessions, including plans to spend $3 million on more enclosed space and a sound engineer. Ultimately, however, co-owner Dmitry Chekaldin said neighborhood opposition "murdered" the plans.
While Dacha initially offered a beer garden for 600 people, Aslin started with a more modest plan for 300. Even that was scaled back – maximum occupancy landed at 250. Aslin proactively tried to minimize the hostility from neighbors by hiring a design firm / /3877 to help alleviate litter and noise issues. A combination of negotiations with nearby residents and bargaining with DC permits ultimately delayed the opening, which was originally scheduled for last fall.
This is the first permanent location in DC for Aslin Beer Company, which also has beer gardens and bars in Herndon and Alexandria, and co-founded Nighthawk Pizza in Pentagon City. The space was previously a parking lot, and the Aslin Gas Station nods to the many body shops and car dealerships that once occupied the neighborhood with a gas station motif. A converted garage hosts a bar and beer store, while the outdoor space is filled with Adirondack chairs and picnic tables. On the side stands a colorful mural depicting new Supreme Court Justice Ketanji Brown Jackson, his father (and attorney) Johnny Brown, and Constance Baker Motley, the first black woman to serve as a federal judge.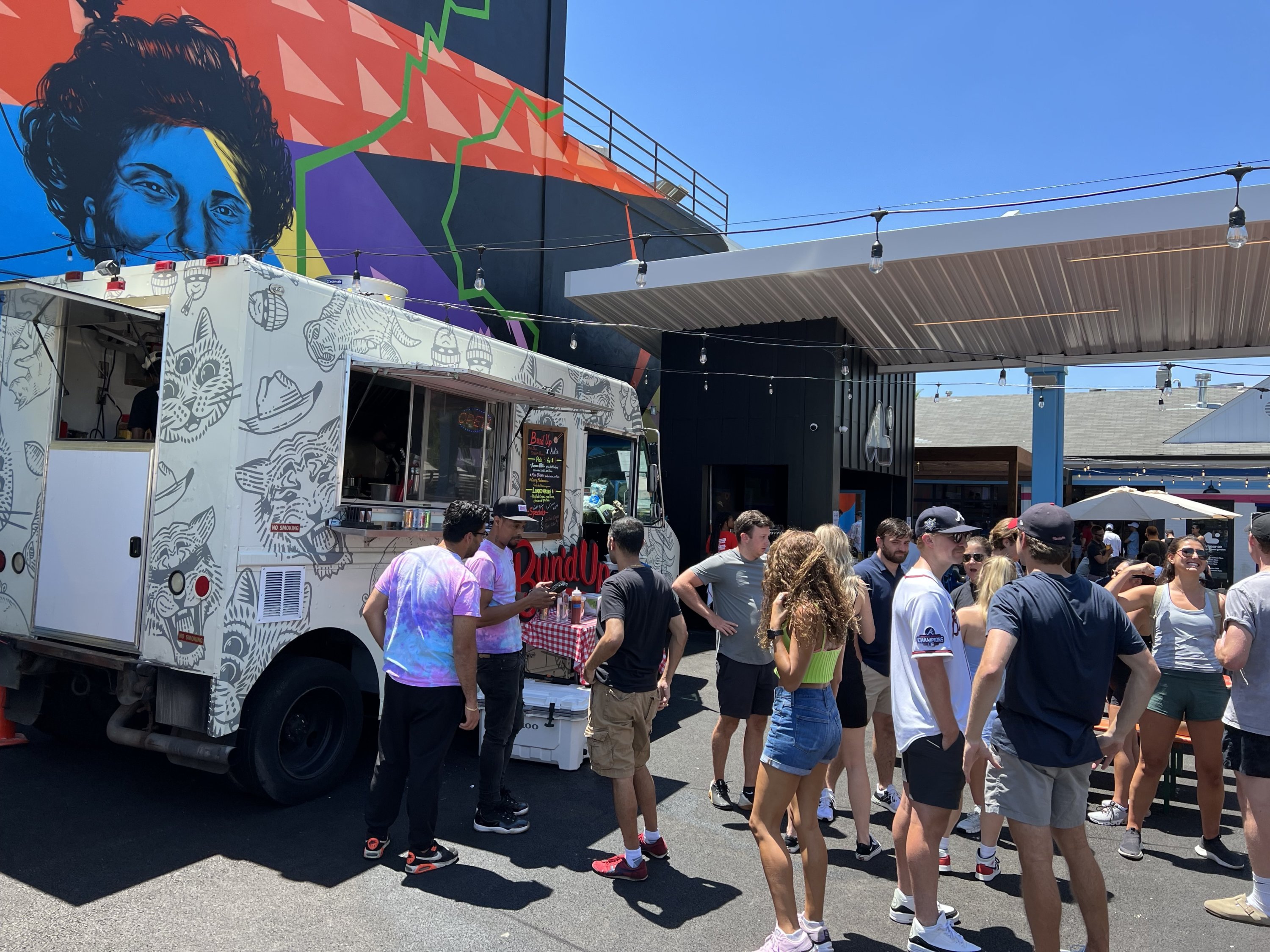 All 24 taps will spin weekly, if not daily, with at least two guest drafts in addition to Aslin's own line of IPAs, sours and lagers. (Some wines and ciders are also available.) The Bun'd Up food truck is permanently parked serving loaded bao buns and nachos. Popsicles and ice cream are coming soon, as is breakfast.
Aslin now roasts his own coffee at his new restaurant and bakery, Izzi, attached to the brewery's Herndon location. On 14th Street, you'll find jugs, teas, and "fun drinks" like an iced tonic espresso and a black sesame snickerdoodle latte starting at 6:30 a.m. on weekdays and 7 a.m. on weekends.
Aslin gas station. 1740 14th St., NW.