Learn How to Start a Coffee Shop in Georgia from the Coffee Startup Experts at Crimson Cup Coffee & Tea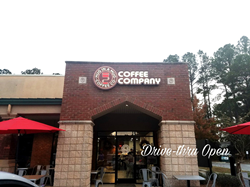 "I was looking for a franchise but decided against it once I saw the Crimson Cup advertised on the internet. The service was great! We love the coffee blends and the recipes. – Mike Scott, Owner, Hug in a Mug Coffee Company, Valdosta, Georgia

Columbus, Ohio (PRWEB)
July 09, 2022
Want to know how to open a cafe in Georgia? Get insider secrets on starting a profitable business in the Peach State from the coffee start-up experts at Crimson Cup Coffee & Tea.
Roast Magazine's 2016 Macro Roaster of the Year has taught more than 300 entrepreneurs in 30 states how to open a coffee shop with its 7 Steps to Success Coffee Startup Program.
Now, the company's 7 Steps coffee start-up consulting team has added to its series of state-level coffee start-up guides with "How to Start a Coffee Shop in Georgia."
"Georgia is a land of opportunity for many types of small businesses, and coffee shops are no exception," said Crimson Cup Founder and President Greg Ubert.
"In fact, Georgia ranks 48th among states for the number of coffee shops per capita, with less than one coffee shop for every 8,752 Georgia residents. This leaves many Georgians without a local coffee shop.
He noted that Crimson Cup supports three independent cafes in cities and towns across Georgia.
These entrepreneurs learned how to open their shop through the company's 7 Steps to Success coffee startup program.
The program is based on Ubert's book, Seven Steps to Success: A Common-sense Guide to Succeed to Specialty Coffee, which he originally wrote to help coffee shop customers master all aspects of successful coffee shop operation. 'A coffee.
"We help entrepreneurs with little or no coffee experience to become successful coffee shop owners serving their local communities," he said. "From choosing a great location, to writing a solid business plan for the cafe, buying and fitting out equipment, hiring and training staff, and more, our team is here to guide you."
To learn more about the book in Ubert's own words, download a free recorded introduction from Soundcloud.
"As a coffee roaster and coffee business consultant, Crimson Cup believes that our business only succeeds when our customers do," Ubert said. "As a result, we support cafe owners every step of the way, from concept to opening day and beyond."
A serial entrepreneur who owns 30 Precision Tune Auto Care locations, Mike Scott was looking for a new business that would be less technical than his other businesses and could be duplicated once learned. The specialty coffee seemed to fit just fine.
"We love coffee and we love the idea of ​​a business that the community can fall in love with," he said. "We also wanted to give back to our community by donating to local nonprofits."
Scott found Crimson Cup while researching business opportunities on the internet.
"I was looking for a franchise, but decided against it once I saw the Crimson Cup advertised on the internet," he said. "The service was great! We love coffee blends and recipes.
He opened Hug in a Mug Coffee Company in 2017 through our 7 Steps to Success program.
"The most helpful step for me was location," Scott said. "Although I already understood the importance of location, learning what makes a good place for a coffee was invaluable."
Located on a busy street with many other retail and service businesses, Hug In A Mug Coffee Company serves a full menu of hot, iced, and frozen espresso drinks — including mochas, lattes, and cappuccinos — as well as coffee and iced tea, cold-brewed coffee, hot chocolate, fruit smoothies and other personalized beverages. Bagels, breakfast sandwiches, pastries and desserts complete the menu.
The Hug In A Mug Brew Bar inspires coffee lovers to slow down and enjoy hand-poured coffee using Hario v60 or Chemex brewing systems. "It's definitely the experience for the coffee connoisseur who may have a more 'discerning' palate," Scott said.
When asked for advice for aspiring cafe owners, Scott replied, "Go with Crimson Cup." He also noted the importance of having enough start-up capital and funds. "It might take a while to get your name out there."
As a one-stop-shop for independent coffee shops, Crimson Cup provides award-winning coffee, the best coffee supplies in the business, and ongoing support to help coffee businesses thrive.
In addition to the Georgia guide, Crimson Cup recently published guides on How to Start a Coffee Shop in Texas, Ohio, North Carolina, Michigan, Pennsylvania, Illinois, and Tennessee.
About once a week next year, the roaster will post state-level coffee startup guides on its website. Next: A guide on how to start a coffee shop in Indiana.
"While the fundamentals of operating a cafe remain the same from state to state, economic opportunities, business formation and licensing requirements vary widely," Ubert said. "We're excited to share information and resources to help entrepreneurs accelerate their startup journey."
He urged anyone thinking of opening a cafe in any state to call Crimson Cup for advice.
"If you run into any obstacles or just want to discuss your vision with a coffee expert, you can contact our startup team by calling 1-888-800-9224."
About Crimson Cup Coffee & Tea
Founded in 1991, Crimson Cup is at the forefront of the coffee industry. Its mindful roasting, startup support, and global partnerships are consciously designed for the greater good of communities around the world. Among other national accolades, the company won the 2020 and 2017 Good Food Awards, the 2019 Golden Bean Champion for Small Roastery Franchises/Chains, and Roast Magazine's 2016 Macro Roaster of the Year.
Crimson Cup travels the world in search of the perfect cup, driven by meaningful relationships, honesty and a shared vision for the future. Its Friend2Farmer initiatives promote respect and decency through mutually beneficial collaboration between local and global communities.
Through its 7 Steps to Success Coffee Startup Program, the company teaches entrepreneurs how to open and run independent coffee shops in their local communities. By developing a cafe business plan, entrepreneurs get insight into the cost of opening a cafe.
Crimson Cup coffee is available at more than 350 independent coffee shops, grocers, colleges and universities, restaurants and eating establishments in 30 states, Guam and Bangladesh. The company also has several Crimson Cup cafes and a new CRIMSON flagship store. To learn more, visit crimsoncup.com or follow the company on Facebook and Instagram.